The Art and Fashion of Hiroko Koshino
Text and interview by Laura McLaws Helms
The 1970s proved a pivotal period for the emergence of Japanese fashion designers in the West. It was only in the post-WWII years that Western style dress (composed of tailored garments) became popular and more accepted in Japan, gradually becoming more common than traditional indigenous garment styles (the flat cut-and-sewn shapes of kimonos and robes). This led to a shift in fashion design education, which by the late 1950s and early '60s was teaching students a blend of the two styles. What manifested was a design worldview like no other—several generations of designers who fused East and West silhouettes, fabrics and construction techniques in wholly original ways. The first Japanese designers to make an impact were Kenzo Takada and Issey Miyake. Kenzo moved to Paris in 1964 and opened his first boutique there, Jungle Jap, in 1970, while Issey Miyake (after working for Givenchy and Guy Laroche in Paris and Geoffrey Beene in NYC) set up his own design studio in Tokyo in 1970 and showed a prêt-à-porter collection in Paris in 1972. Many of the now most renowned Japanese designers made their entrée into the European and American scenes in the 1980s, after starting their careers in Tokyo—Rei Kawakubo's Comme des Garçons first showed in Paris first in 1981, as did Yohji Yamamoto; Matsuda opened a Madison Avenue boutique in 1982. Alongside them was Hiroko Koshino—though less remembered internationally than her contemporaries, she showed in Alta Moda in Rome in 1978 and in Paris from 1982 to 1993. A series of two exhibitions (both curated by Kyoko Sato) showcasing her fashion designs and paintings at WhiteBox in New York this fall seek to reintroduce Koshino to the American public and reestablish her as a key member of Japan's fashion vanguard.
Apparel was Koshino's family's lifeblood. Her grandfather was a traditional kimono maker while her parents made western style clothing—her father was a tailor and her mother owned a women's boutique that produced made-to-order clothing. Born in Osaka in 1937, Koshino and her two younger sisters (Junko and Michiko) were groomed to continue the family business. She learned to sew at a young age but as a teenager found herself increasingly interested in art, particularly in drawing anime. Pushed by her parents to study fashion, Hiroko enrolled at Bunka, the top fashion college in Japan. There she discovered fashion illustration, which helped her bridge the gap between her parents' expectations and her own desires. An illness kept her bedbound at her childhood home for six months, providing her a novel and intensive study period during which she practiced her drawings all day long—experimenting and refining her artistic fashion vision over the course of thousands of illustrations. By the time she was well enough to go back to college, Hiroko had become such an expert illustrator that she began teaching it.
After graduating in 1961 Hiroko designed a young women's line for a Tokyo store and did some work with her mother's shop before launching an haute couture atelier of her own in Osaka in 1964. At that time she would design every piece specifically for the client according to their needs and desires, as well as her own response to them. This allowed her to begin designing on a completely new level from dressmaker years. She describes the custom pieces as "much more of a creation"—innovative designs unlike any others around that fused western and eastern design philosophies, all made from imported luxury fabrics. Even though these bespoke designs were quite expensive, they were an almost instant success.
In 1973 the show producer Yoshiro Yomo sought to establish Tokyo as a global center for fashion—he drew together a group of six of the top Japanese designers to show together biannually under the moniker 'TD6' (alternately described as 'Tokyo Designer 6' or 'Top Designers 6'). The first group included the already internationally renowned Kenzo and Issey Miyake; Hiroko Koshino joined in 1977, as did her sister Junko Koshino (the youngest Michiko established her own brand in London in the 1980s). TD6 evolved into Japan Fashion Week, where Hiroko has shown her collections biannually for 41 years. Hiroko's admits that the atmosphere between the designers was more competitive than supportive, yet TD6 itself was extremely helpful in introducing all of them to buyers and expanding her business.
Harper's Bazaar Italia, September 1978.
One of the opportunities that arose out of her new larger profile was the possibility to show her collection as part of the Italian haute couture shows, Alta Moda in Rome. Hiroko relayed to me her nerves in coming from Osaka—in her words, a "small, provincial town"—to show in Rome. She'd always been conscious of working her own way and she was confident as a designer and businessperson in Japan, but unsure her ideas would translate to a European audience. Seeking to push herself and to find a way to stand out as a Japanese designer, for months in advance Hiroko delved deep into the history of kimonos. This was the period when Hiroko Koshino's design aesthetic truly became individual and defined, as she sought to find a way to unite the two-dimensional form of the kimono with the three-dimensional tailoring of the West to create something completely new. She experimented with this concept and debuted it during her collection for autumn/winter 1978 in March 1978 in Rome. Wrapped and draped dresses were layered over skirts and harem-style pants… strapless lame jumpsuits were paired with obi-style belts and sheer kimono-like robes… voluminous coats with rounded shoulders were finished with trapunto quilting. One of her main influences has always been Kabuki—the exaggerated kimonos, the bright colors, the graphic makeup—which can be clearly seen in the over-the-top volumes and vibrant shades in this and subsequent shows. Her Alta Moda debut was a resounding success and garnered her 23 pages and an interview in the September issue of Harper's Bazaar Italia.
Around this time Hiroko became acquainted with the self-taught Japanese architect Tadao Ando, whose buildings expressed a certain Zen simplicity and harmony with nature that she felt a kinship with. Borrowing money from the bank, she hired him to design a home for her built into a mountain outside Osaka. The desire was to be within nature—physically inside the environment that made her feel spiritual and connected to inspiration. Made from smooth concrete with large windows overlooking the lush greenery of a nature preserve, the Koshino House is an internationally recognized example of Ando's talent for the interplay between light, empty space and nature. Looking back on it now, Hiroko reflects on how important it is to take risks like this—though she went into debt for this home, it was an investment in her future and her career because it provided her the space (both physically and mentally) to create at a higher level. The process of creating her ideal home and lifestyle also revealed to her how "lifestyle" itself could be a business. In 1982 she began licensing her name and designs for a variety of lifestyle products, including bed linens, towels and ceramics. At the time she was at the forefront of this fashion-lifestyle branding in Japan—these products were such a hit that they also expanded the success of her fashion line and helped pay for the house that had inspired them.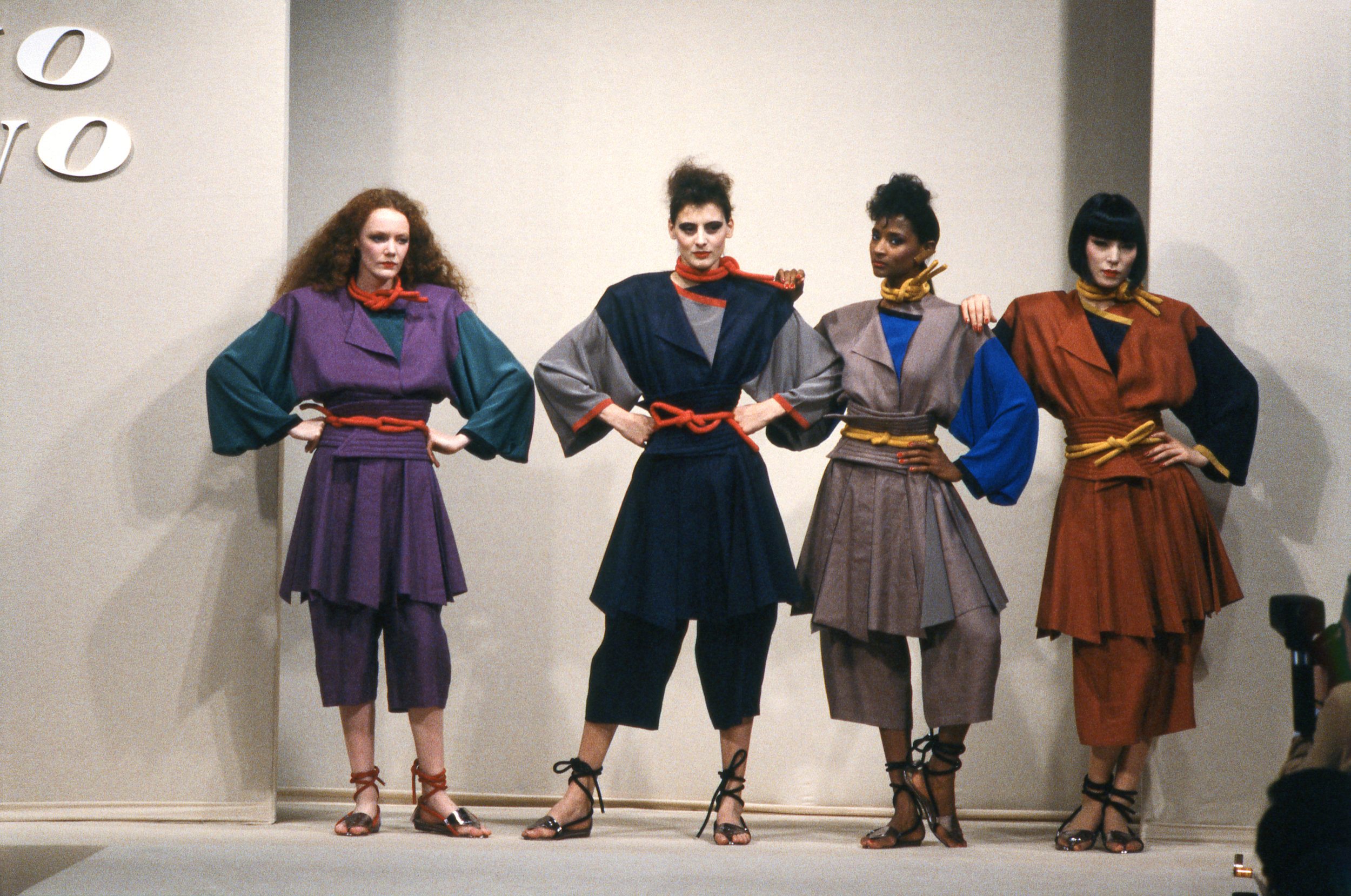 Hiroko Koshino's first show in Paris, 1982.
Starting in 1982, Koshino showed her line in Paris twice a year as part of the prêt-à-porter collections. In the United States, Koshino's designs were carried exclusively by the high-end boutique Lina Lee on Rodeo Drive in Beverly Hills. Known for her sharp eye and avant-garde taste, when Lina Lee Lidow expanded to New York she took over three retail spaces in the then-new Trump Tower—one of which was a centerpiece for Hiroko Koshino. In a four-page ad premiering the NY stores, Koshino's collection is described as taking on "a sleek, avant-garde mood by combining the fabrics for ancient design history of Japan with strong modern shape." In 1986 a short-lived Hiroko Koshino boutique opened on Rodeo Drive. This was followed by a boutique in Paris in 1991. Since 1992, she has focused on growing her business in Japan—expanding the different brands under the Hiroko Koshino name and solely showing her runway collections in Tokyo and Osaka.
Hiroko designs for herself—she feels that if she loves wearing something that other women will too. It is of great importance to her that her clothes suit all women, that they are flattering for all body types. Seeing herself as a sort of "everywoman," Hiroko has allowed her desires to lead her to develop an assortment of different lines that actively serve different aspects of herself. This includes everything from a sportier line inspired by her love for golf, a more classic line for work events and the couture line for galas and parties. When asked how she balances six brands and her art, Hiroko explained to me that all of the work gives her momentum to create even more. Now 81, Hiroko continues to lead a very active lifestyle that is further enhanced by her many responsibilities and projects.
The gallery inside Koshino's former home, designed by Tadao Ando.
Throughout her fashion career Hiroko continued to draw and paint as a way of connecting with her inner inspiration, but it was always secondary to fashion. Compelled to create for personal reasons, she always saw her painting as a hobby until 2002 when she began exhibiting her works. Since then she has shown her Sumi ink paintings, calligraphy, acrylic paintings and mixed media works at exhibitions all around Japan and in Paris. In 2013 she renovated her Tadao Ando home into an art gallery for her works, available to view by appointment. The current exhibition at WhiteBox in New York pairs some of her most intriguing and innovative runway fashions with over scale abstract paintings, Sumi ink works and installation artworks. She also created a site-specific eighty-foot-long ink scroll. According to Hiroko her artworks are never premeditated—she starts to paint spontaneously and lets the brush lead the way. These ink works have been described as, "wholly beautiful, but not so much so as to overwhelm. They do not exclude, they embrace."
Looking over her life, in an interview earlier this year Hiroko stated, "I got my aesthetic sense from my grandfather, who was a kimono draper, and my business sense from my mother, and I've been inspired by competing with my sisters. All these things have made me what I am today." For Hiroko, once she has created something—whether in fashion or art—it is done, and there is never any looking back. When forced to reappraise her career through retrospective shows like the one at WhiteBox, she discovered that works from different periods of her life had a certain unity and continuity of message. They express her way of life—a personal philosophy of life that has evolved through years of training, continuous work and by digging deep inside herself.
Current exhibitions, both at WhiteBox, 329 Broome Street, NYC:
HIROKO KOSHINO: A Touch of BAUHAUS NOVEMBER 1 – DECEMBER 1, 2018
HIROKO KOSHINO: Part 2 COLOR SUITE AND SUMI INK PAINTINGS DECEMBER 5 – 30, 2018


Hiroko Koshino's 23 page feature in Harper's Bazaar Italia, September 1978:
Hiroko Koshino | Spring Summer 2018
Vintage Hiroko Koshino we love: